Born: 10 August, 1938, in Elgin
Died: 14 January, 2003, in hospital in St Andrews, aged 64
Neil was born in Elgin, studied at Duncan of Jordanstone, was a prizewinner of the Open Painting Exhibition of Northern Ireland in 1970, and gained numerous scholarships to study abroad, including the Netherlands and New York. He exhibited widely throughout the UK, Denmark, Germany, Italy and Switzerland and was one of the Twelve Scottish Painters toured by the Maine State Commission in the US in 1970.
He held teaching posts at Duncan of Jordanstone and was, until his retirement, a lecturer in painting at Glasgow School of Art, where he taught, among others, Peter Howson and Joseph Stalin's great-grandson, Yakov Dzhugashvili.
He would talk eloquently and openly about the influences on him of American artists such as Helen Frankenthaler, the forthright Elsworth Kelly, the simplicity and power of Frank Stella and Leon Berkowitz's "soft ethereal colour zones on which there was no configuration of any kind" and about the dynamics and symmetry of the work and how he strove now towards majesty, poetry and beauty.
A commitment and enthusiasm undimmed by lack of commercial success invigorated and sustained him through a long, difficult period during which he suffered greatly from clinical depression. Despite little critical recognition, he continued over the past ten years to experiment with new forms and periodically would invite me along to view and comment on a completed shaped piece. It could be a challenging evening, sometimes daunting, as he checked off my comments against his own meticulous notes and nodded approval or generously acknowledged a point that had eluded him.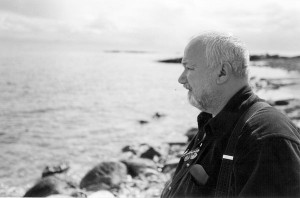 A man of feisty integrity, Neil often locked horns with what he regarded as the establishment and was bluntly critical of what he perceived as a tendency within it towards cronyism. Supremely articulate, he could also be scathing and fearless in his criticisms of individuals and trends in art, but would equally give willingly of his time to seek out, praise and encourage a student in his or her career. He was also a gracious and considerate companion who inspired loyalty and affection.
His death from cancer was relatively quick. During his hospitalisation, he was nursed with unstinting devotion by his partner, Dorothea. He is survived by her and by his former wife and two daughters, Amanda and Sara.
From the hospital ward he had a clearly framed view of the sea and the pier at St Andrews harbour. It could not have been composed more appropriately.
Taken from The Scotsman obituary by John Di Folco